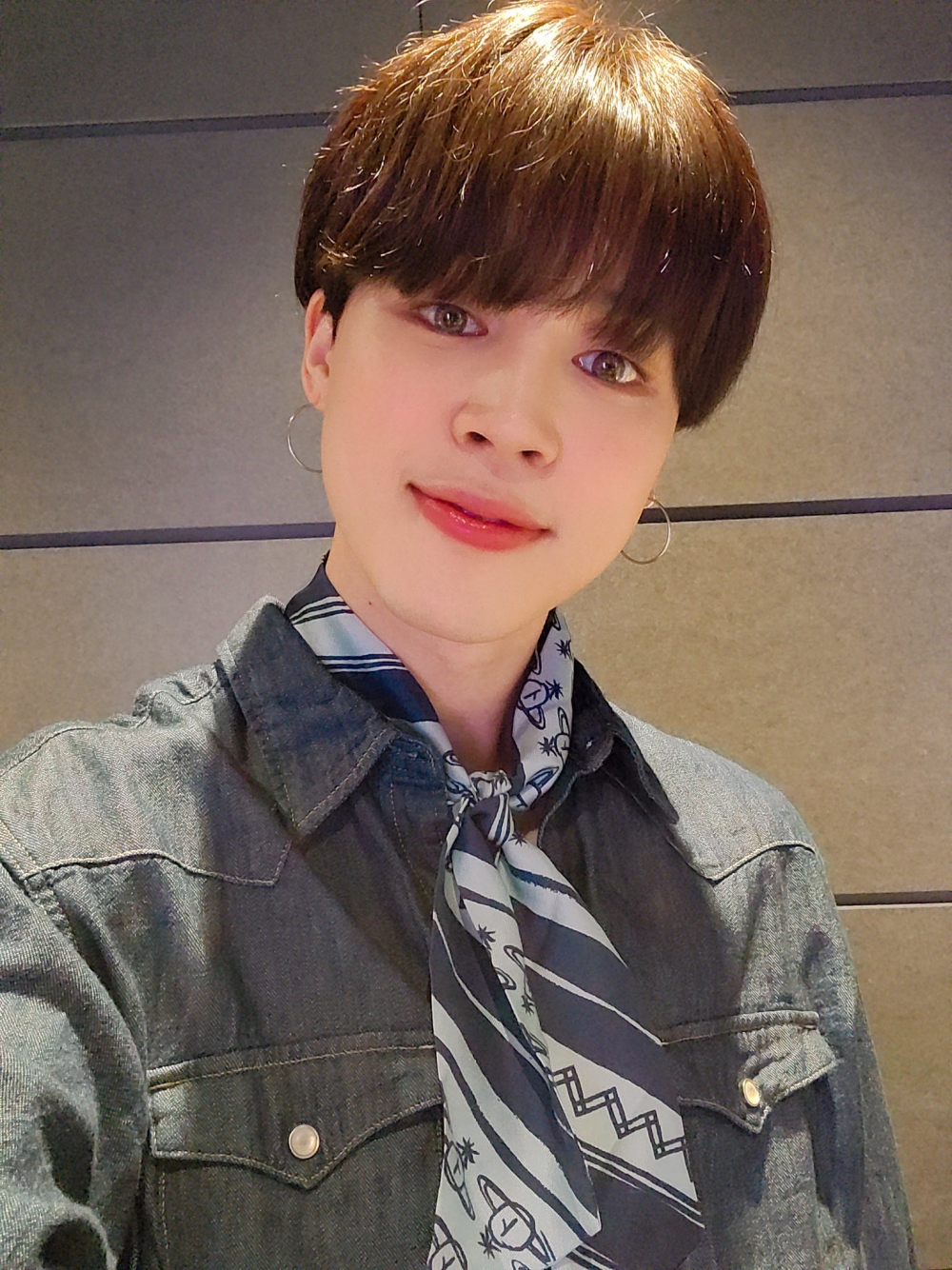 Jimin is known for his comforting and sincere words, as well as his humility and immense gratitude to fans. Fans are always in awe of how much love and gratitude he shows them both in his words and actions. Hence, it is always a celebration whenever he communicates with fans, as they purpose to appreciate and reciprocate the same love he shows them.

On August 5, Jimin posted a voice note on the group's community platform Weverse, saying, "Thank you everyday and I love you."

Notably, there had not been any new significant achievement for BTS that would have warranted the post. Nevertheless, it has always been in Jimin's character to always be appreciative and grateful to fans any day and any time, which makes his gestures even more touching and sincere.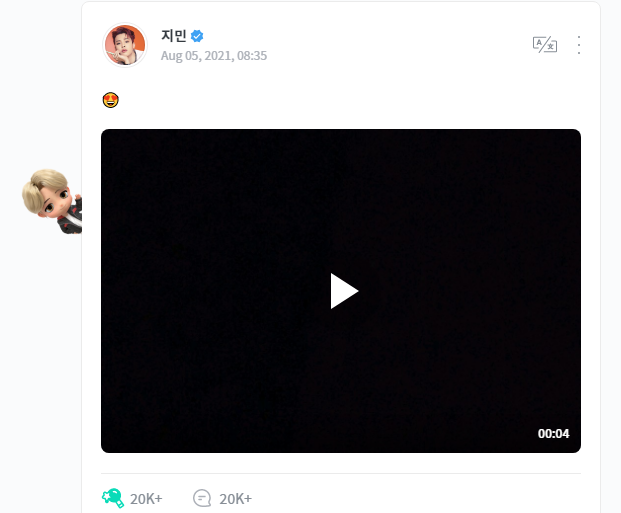 Jimin's Weverse post 210805

🐥 "Thank you every day and I love you~" @BTS_twt
pic.twitter.com/k9XRxHJOo9

— JIMIN DATA (@PJM_data) August 5, 2021


After the post, Jimin quickly took over Twitter trends in the USA with keywords such as Jimins and HIS VOICE, peaking at #17 and #18 respectively on US trends as fans showered him back with the same love he shows them every day.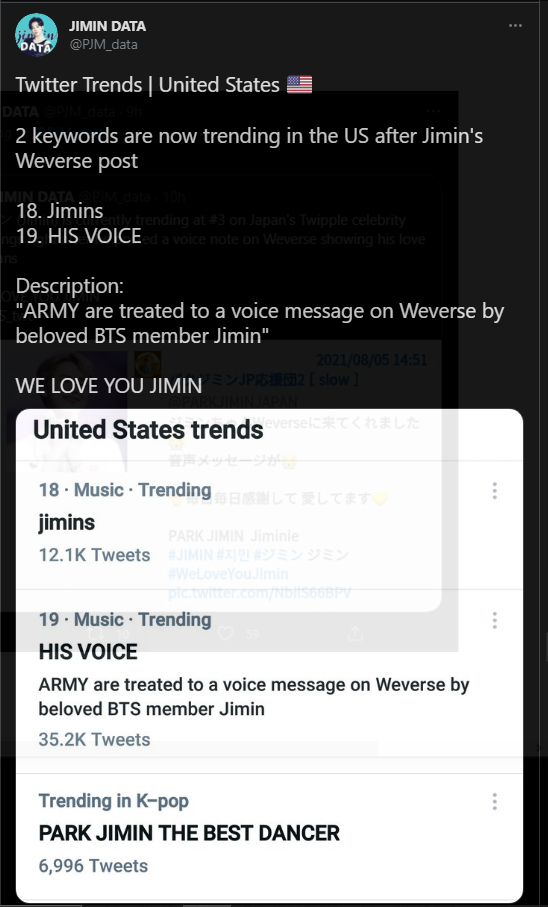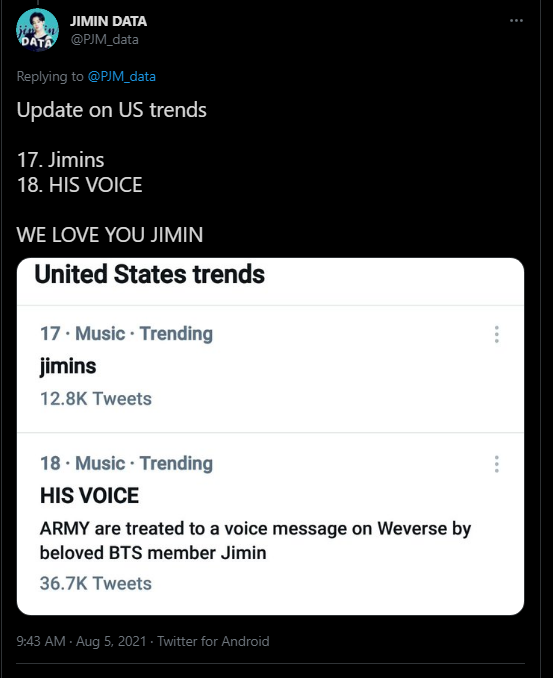 Jimin also trended on Twipple Japan's celebrity ranking section, quickly rising to the top spot in the category as fans celebrated hearing his sweet and perfect voice while also relishing in his ever so touching words.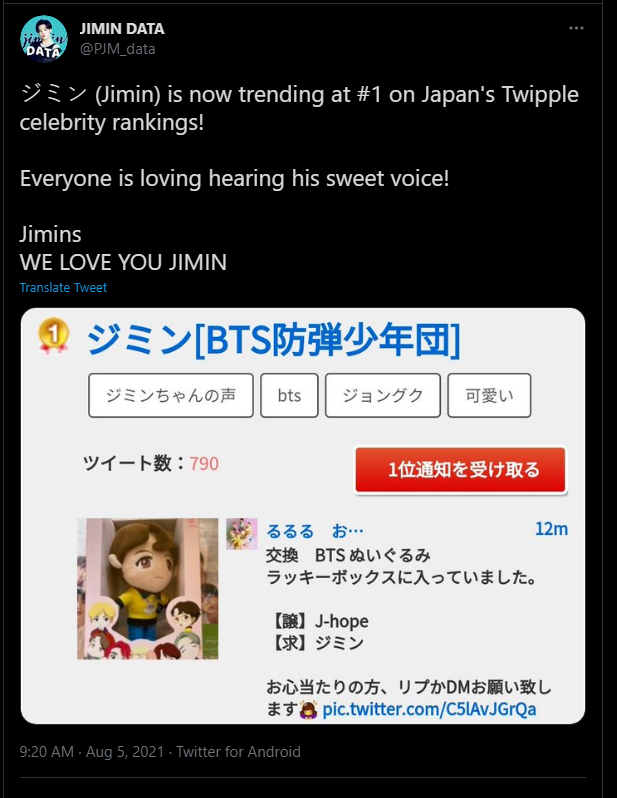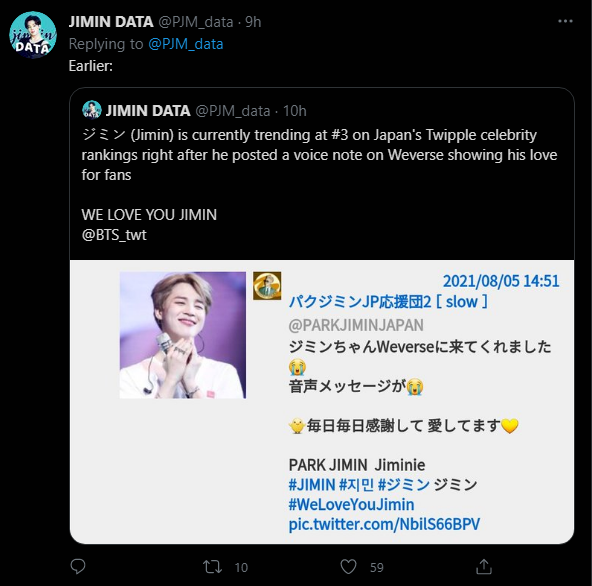 Moreover, he entered the worldwide trends with the keywords WE LOVE YOU JIMIN and THANK YOU JIMIN. Both keywords peaked at #9 and #28 respectively on the worldwide trends map as fans around the world reciprocated his warm feelings with sweet messages to him.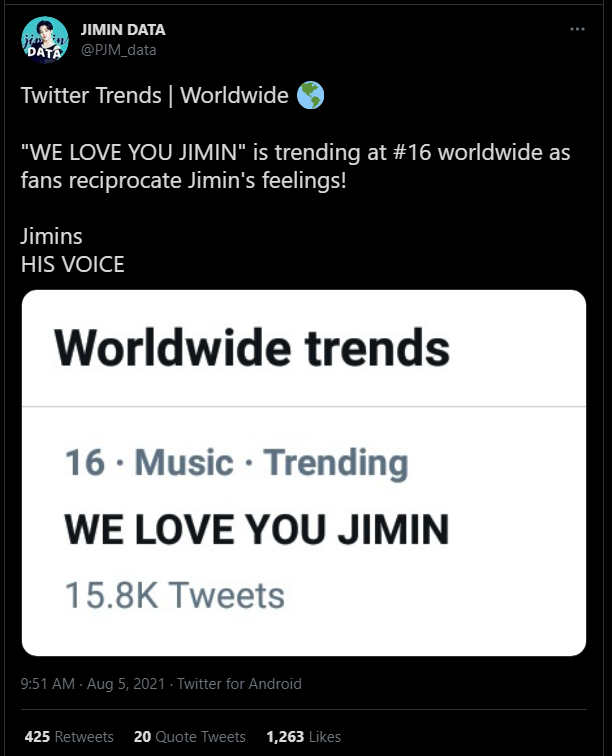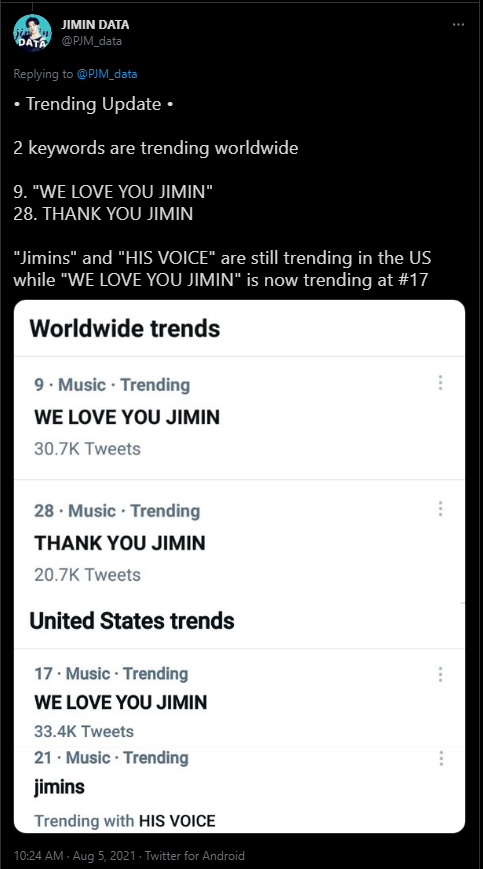 Some fans said that they hope Jimin knows how much they love him more than anything. Others tried to portray how Jimin made them feel by bringing up older statements from him, while others expressed gratitude for knowing him and having him in their lives.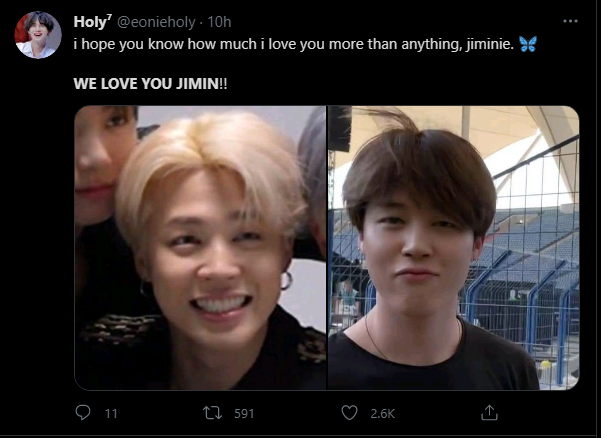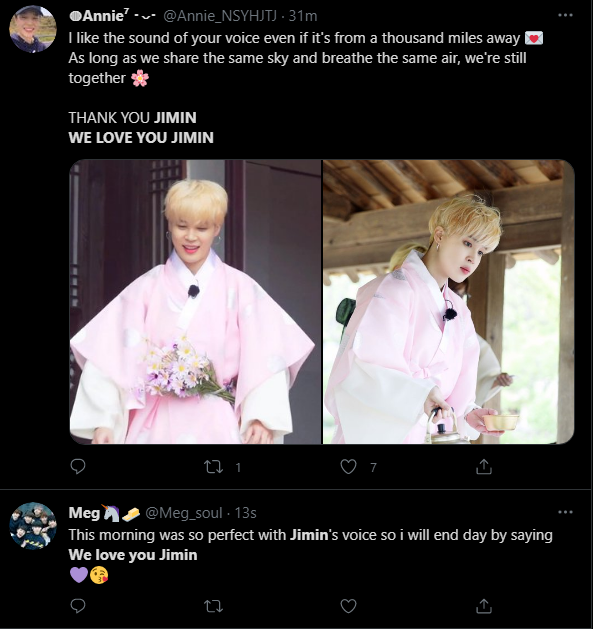 I feel so loved, understood, and accepted because of you.

THANK YOU JIMIN.
WE LOVE YOU JIMIN. pic.twitter.com/rjeo25PHSy

— ¹³PERMISSION TO DANCE!kaytee⁷ (@jikoomk) August 5, 2021
Armys are so lucky to have a soul as pure and kind as Jimin in our lives
THANK YOU JIMIN FOR LOVING US SO UNCONDITIONALLY!!!
WE LOVE YOU JIMIN💜💜💜 pic.twitter.com/QYRl3mtb65

— alexandra ✨ (@alexandra08267) August 5, 2021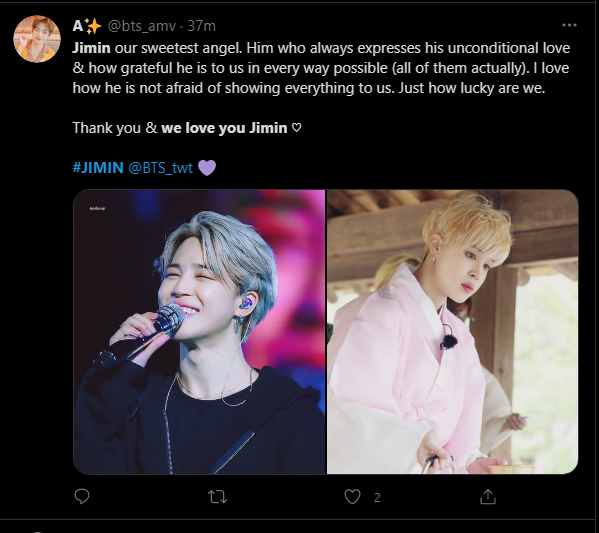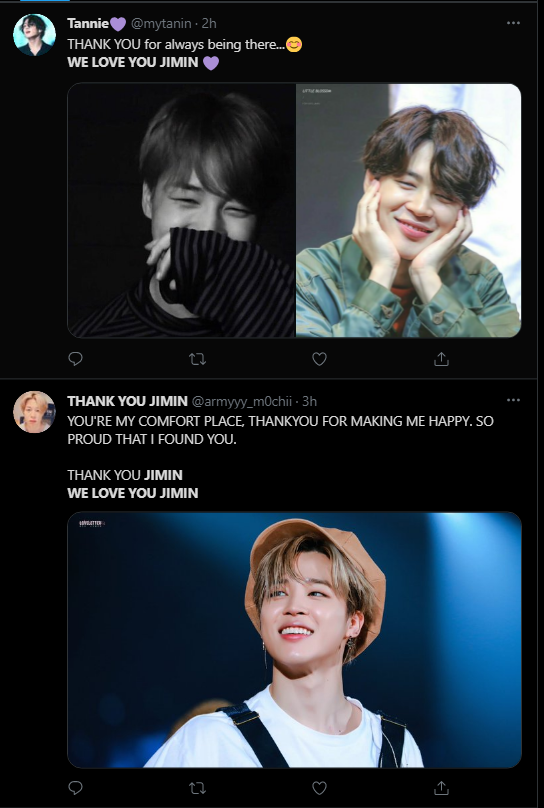 Earlier on in the week on August 2, Jimin had posted a selca on the group's official Twitter handle, sharing that he now had black hair. Such acts of sharing simple things about his daily life with fans also go to show how much he thinks about them and how much he loves them. As an artist of his caliber with the group's success, it is refreshing and endearing to see him still remember to stay in touch with fans. It's wonderful that he shares such small things with all whom he deems to be part of the journey that has led him to where he is.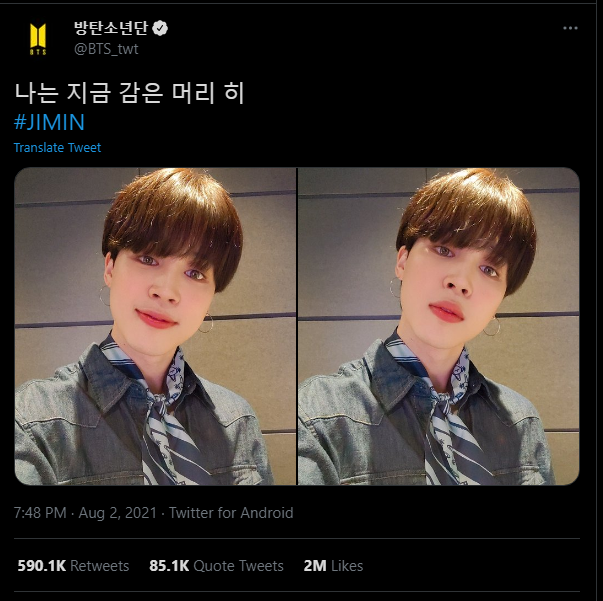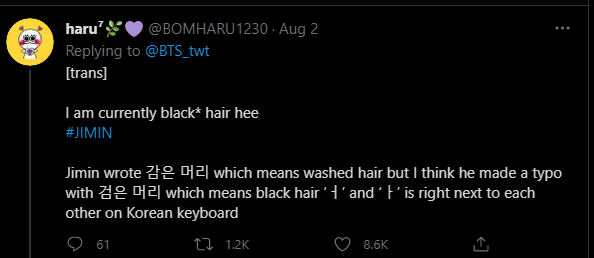 As expected for such a gesture, fans were elated to hear from him, and he quickly got into Twitter trends all around the globe.

In the USA and Worldwide, he trended with the keyword Jiminie, rising to the 6th position on the worldwide trends and 12th position on the US trends. Additionally, he trended and peaked at #1 on Japan's Twipple in the celebrity ranking category and trended with three keywords in South Korea: Our Jimin, Jimin-aah, Black hair.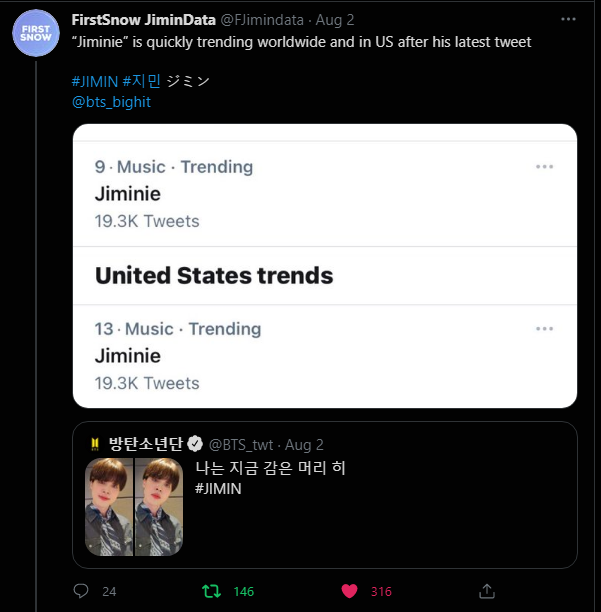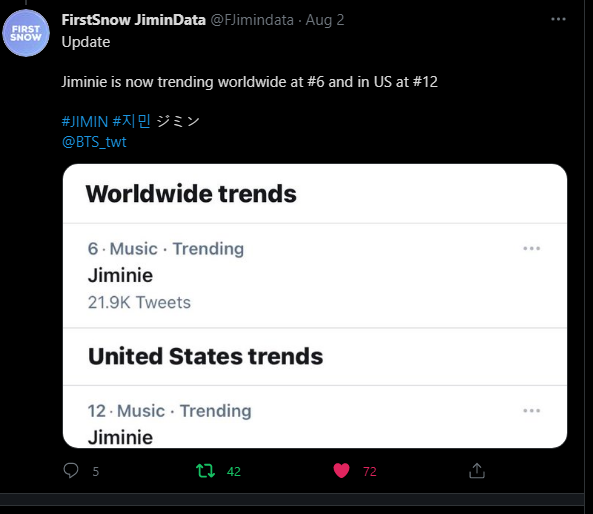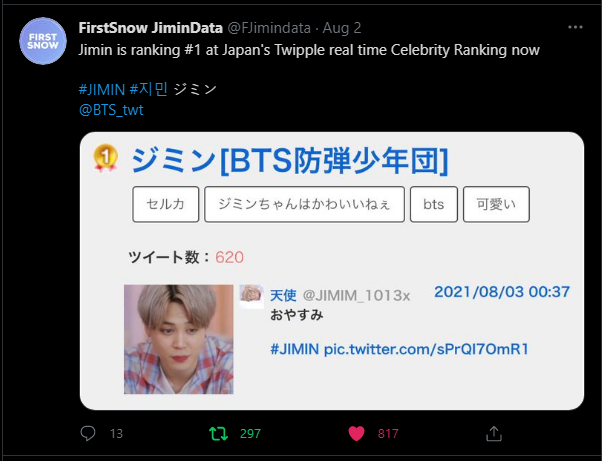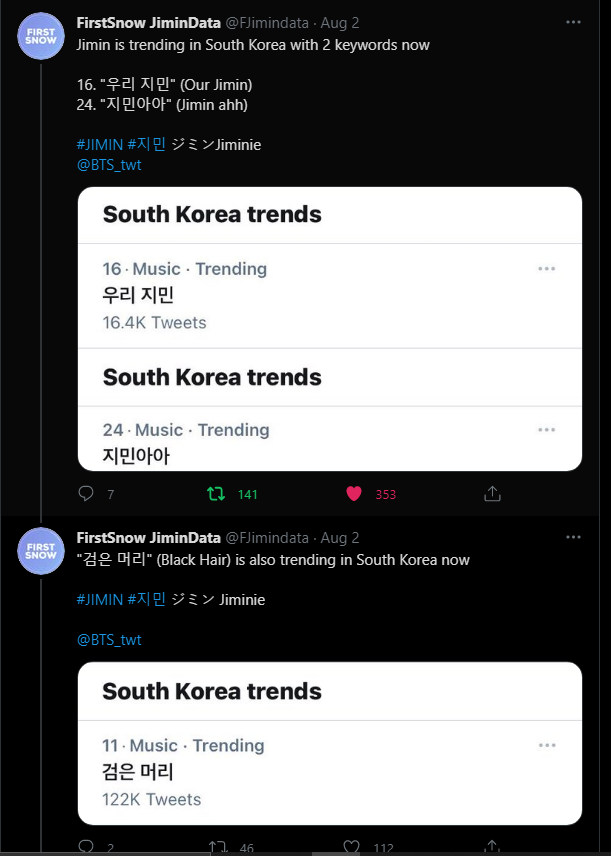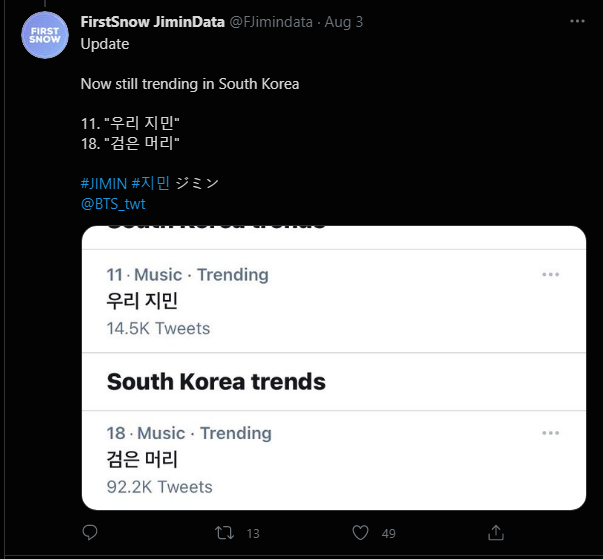 Overall, he trended in over 25 countries with over 37 total trends and over 26 keywords; fans appreciated his love and his striking beauty.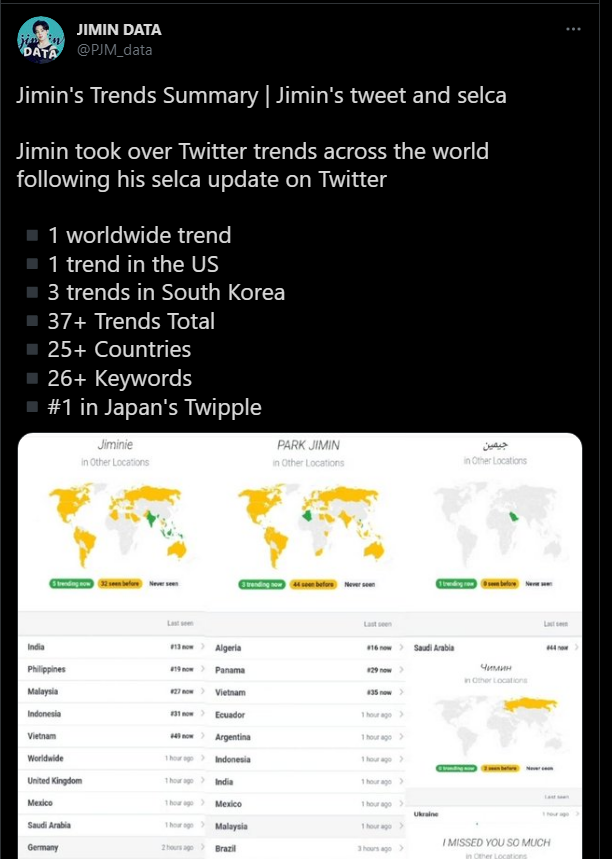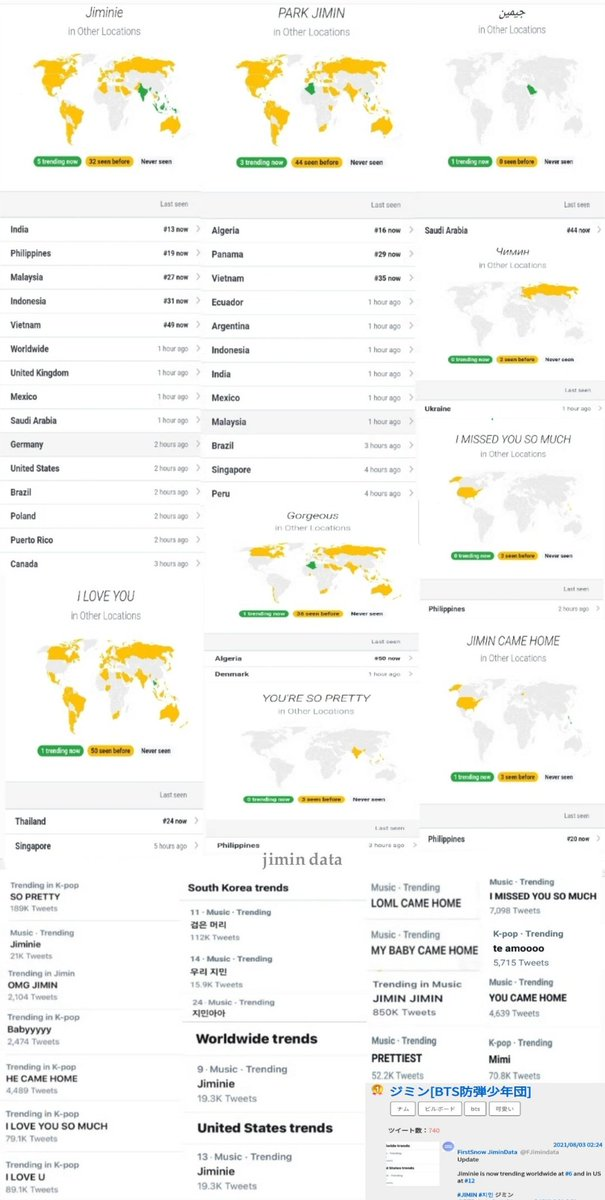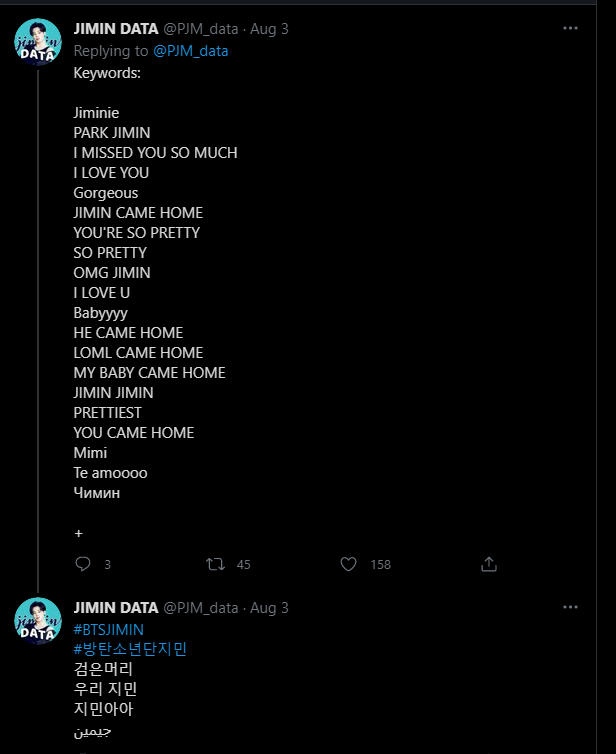 Jimin always holds a special place in the hearts of fans and anyone who knows him. Not only is he a sight to behold, but the person that he is, as seen from his character and gestures, is always something to draw fans closer to him. He makes anyone who knows him feel loved, appreciated, and comforted at all times. This is why anyone who knows him will inevitably devote their love and support for him, both as a person and as an artist.