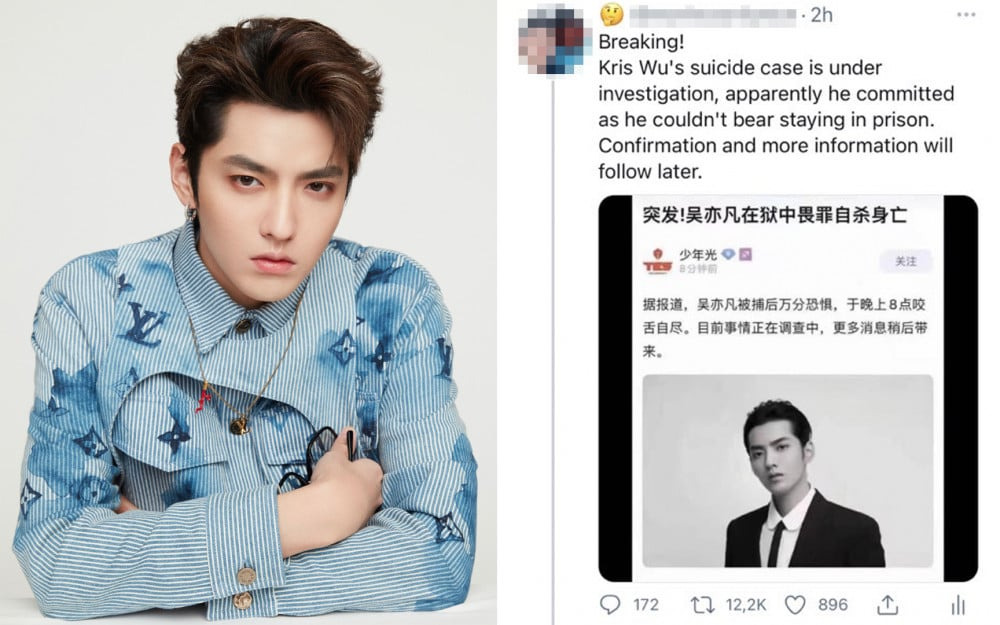 [C/W Content Warning]
Ever since the shocking allegations of sexual assault and possible rape of numerous women, Kris Wu has been at the center of various discussions and making headlines in various news articles.
Recently, there have been numerous articles about the celebrity with speculations about the case along with claims of his whereabouts. One Chinese media outlet published an alleged photo of the inside of a detention facility, claiming that former EXO member, singer, and actor Kris Wu was currently being held there as he awaits his investigation for sexual assault charges.
Now, there have been unproven rumors that Kris Wu had committed suicide as he could not handle being in the detention center. An unverified account on Weibo wrote that Kris Wu apparently committed suicide, and it is being investigated. This was picked up by a Twitter user who shared the Weibo post and stated it as Breaking News that Kris Wu had apparently committed suicide.
This latest rumor is stirring a commotion in the online communities as many are brought to the discussion on whether this new allegation is true or not. The tweet was retweeted thousands of times but was later deleted.
Now, many netizens are stepping forward to claim that the rumors are false and that there is no proof. Nevertheless, the rumor continues to cause a stir and uproar on social media platforms and various online communities.
// suicide

apparently kris wu might have attempted suicide in prison and i gotta say is fuck him his ass better be alive bc he deserves to rot in jail for what he did to those poor girls not get the easy way out in this case

— seven the hyunjin haver 🍀 (@fruitcuplino) August 5, 2021
tw // kris wu , suicide
can people stop saying that kris wu committed suicide? it's not confirmed and it all started because somebody posted it on twitter, wait for an actual statement made by the idk police or another reliable source before spreading this rumour

— lia ✨ eliwa's REAL gf (@onlychengs) August 5, 2021
Kris wu apparently committed … no he needs to pay for his actions idgaf… if the rumours are true he's defo guilty pic.twitter.com/jv6VvluBbP

— call me ash (@k11tyboy) August 5, 2021
Tw- Kris wu/Wu Yifan

Kris wu is not dead apparently (according to my friend in China) pic.twitter.com/9pGeyavV58

— mali😮‍💨 (@dprmali) August 5, 2021
It's embarrassing to even given this article attention.. Bit his tongue and died indeed. Tabloid trash.

— NotPony. (@PonyIsbackagain) August 5, 2021
TW// kris wu and su*cide

this is insane pic.twitter.com/dPsiCwOmzL

— skye | reading tyk (@sk4grn) August 5, 2021